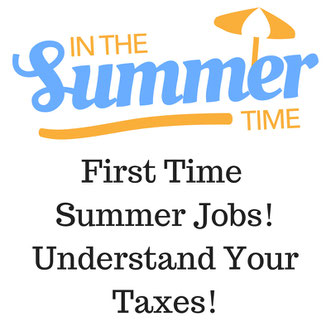 With the summer comes the opportunity for our children to learn about money --- earning it, spending it, saving it and of course, paying taxes on it!  It's important to teach the next generation of tax payers about taxes and the differences between being paid as a W2 employee or a self-employed contractor.  If you are being paid as a W2 employee, then taxes are being taxen out of your check and you will include your W2 on your tax return.  If you are being paid as an independent contractor, or someone who is self-employed, you will receive a 1099 for your earnings and it is important to understand that no taxes are being taken out of your checks.  This means you are responsible for submitting those taxes throughout the year as "estimated tax payments".  This also means that if you are self- employed, you may have related expenses (deductions) that could reduce the amount of tax that will be owed at the end of the year.  It's important to understand how you are being taxed and then seek guidance from an accountant so there are no surprises at the end of the year.
Some specific examples to be aware of include the following as noted by the IRS in their publication, Tax Tip 2018-82:
Tip income

. Someone working as a waiter or a camp counselor who receives tips as part of their summer income should know that tip income is taxable income and subject to federal income tax. They should keep a daily log to accurately report them, as they will report tips of $20 or more received in cash in any single month.

Payroll taxes

. This tax pays for benefits under the Social Security system. While taxpayers may earn too little from their summer job to owe income tax, employers usually must still withhold Social Security and Medicare taxes from their pay. If a taxpayer is self-employed, then Social Security and Medicare taxes may still be due and are generally paid by the taxpayer.

Reserve Officers' Training Corps pay

. If a taxpayer is in an ROTC program, active duty pay, such as pay for summer advanced camp, is taxable. Other allowances the taxpayer may receive – like food and lodging allowances paid to ROTC students participating in advanced training - may not be taxable. The Armed Forces' Tax Guide on IRS.gov has more details.
Remember, if this is your first time earning money from a job, then make sure to ask questions and be informed about your take-home pay and how you are being taxed!  If you are being claimed as a dependent by your parents, it's a conversation that everyone should be involved in.  You may or may not be required to file a separate tax return depending on the amount that you earned so make sure to ask questions and receive guidance!