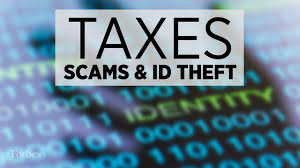 Office Security and Identity Theft
Today, the IRS released a bulletin with information focused towards tax preparers and keeping the information that they have access to safe and secure.  It's a good list!  It is something you should definitely review with your own tax professional and some initial questions should include:
Do you shred sensitive documents?
Do you keep files in a locked cabinet?
Do you use software to encrypt emails and client files?
Do you password protect client portals where clients can upload information to share?
Does the facility have a security system?
Some additional details as provided in IRS Issue Number:  IRS Tax Tip 2018-01, entitled, "Six Questions Preparers Should Ask Themselves About Office Security":
"Tax preparers should also remember that unsecured data will not always be on a computer. In fact, securing office space is as important as securing computers.
In assessing how secure an office is, preparers should consider these six questions. The answers can be very important to help preparers protect both their clients and their businesses.
Are all the places where taxpayer information is located protected from unauthorized access and potential danger such as theft, flood and tornado?
Are there written procedures that prevent unauthorized access and unauthorized processes?
Is taxpayer information left unsecured? This includes data stored electronically. Check desks, photocopiers, mailboxes, vehicles and trashcans. What about in rooms in the office or at home where unauthorized access could occur?
Who authorizes or controls delivery and removal of taxpayer information, including data stored electronically?
Are the doors to file rooms and computer rooms locked?
Is there a secure disposal of taxpayer information, such as shredders, burn boxes, or secure temporary file areas for information until it can be properly disposed? "
So this information is important for tax professionals and any other business that has clients!  Whether you own a construction company and have client's personal information on file related to their homes or you own a bar and have payroll information to store, we can all benefit from a review of our own security practices.  Sometimes it is difficult to see what is directly in front of us, so having an outside set of eyes review (that you trust) review your security procedures may not be a bad idea!  With hurricane season behind us, this is also a great time to make Security and Contingency Planning a New Year's Resolution for 2018!  Make sure to document your emergency procedures, have a plan in place should there be any type of incident or natural disaster (not just a hurricane) and back up your data and client information off-site from your office.  Remember, an office fire is never planned and while you may have insurance, losing client data could be a business-ending event, so take precautions in all areas of your business!