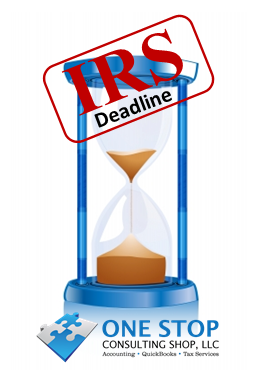 June is over and the year is half gone!  Now is the time to really take charge of our taxes and make a plan for the remainder of the year.  Not paying estimated taxes is the #1 cause of tax penalties, interest and large IRS debt that we have seen this past tax season.  Whether individuals were not informed or chose not to comply, not sending in estimated tax payments increases the amount of tax your owe and could cause you penalty fees as well. 

Recently the IRS posted 6 tips to help you reduce your tax debt this summer.  If you need help figuring out what to send the IRS (estimated payments) or setting up a payment plan, don't waste time worrying about it - get help now!

The following excerpt was distributed through the IRS website:

If you get a tax bill from the IRS, don't ignore it.  The longer you wait the more interest and penalties you will have to pay.  Here are six tips to help you pay your tax bill and avoid extra charges!

1.  Reply promptly.

2.  Pay online

3.  Apply online to make payments.

4.  Check out a direct debit plan.

5.  Pay by check or money order.

6.  Consider an Offer in Compromise

If you or someone you know has questions about how to implement any of these actions, please call us for help!  We can walk you through the process or handle it entirely for you. 
A critical component to success is the ability to ask for help.  I've coined the fear of asking for help in many prior articles and lectures as the "financial fatal flaw".  Getting help early can save you thousands of dollars, hours of time, and a lot of stress!

If you have questions about how these rules directly apply to you, please call us to schedule a tax planning session at (407) 922-0918 or email to info@onestopconsultingshop.com.  Remember, our mission is YOUR business - from start up to success!